Meet the Mission-Driven Founders of Sequoia Spark 02
Ten of 15 Spark 01 startups have gone on to raise their seed & Series A while one has recently been acquired, totaling USD 51 million of capital post Spark. Today, we're excited to introduce the second cohort of the Sequoia Spark Fellowship program!
Team Sequoia India & Southeast Asia (now known as Peak XV Partners)
Published January 19, 2023
Today, we are beyond thrilled to present the second cohort of the Sequoia Spark Fellowship program, comprising 12 ambitious, mission-driven female founders from across India and Southeast Asia who share a deep desire to drive meaningful impact at scale.
Eight of the founders from Spark 02 are from India and four from Southeast Asia. Some of the cohort are second time founders, some have scaled businesses before, and many have deep domain expertise.
Spark 02 founders are tackling a diverse range of problems across sectors and industries like climate tech, healthtech, SaaS, B2B, web3, consumer internet and D2C.
From helping brands adopt materials made from seaweed to replace single-use plastics; building a purpose-driven consumer health company to transform young Indians' wellness journey; helping digital-first brands tap into more consumers by providing them everything they need to expand offline, empowering farmers and small communities in Indonesia by making carbon credits market accessible to them; and even democratising deep tech so that companies of all sizes can leverage it – these women are building startups to solve for some of the biggest challenges we face today.
We are blown away by their ideas, their intensity and their passion. To know more about their mission and the companies they are building, meet Spark 02.
Spark 02 founders will get one-on-one mentorship from a set of very seasoned founders from Sequoia India and Southeast Asia's portfolio. A huge shout out to our mentors, who are so generous with their time, experience and expertise.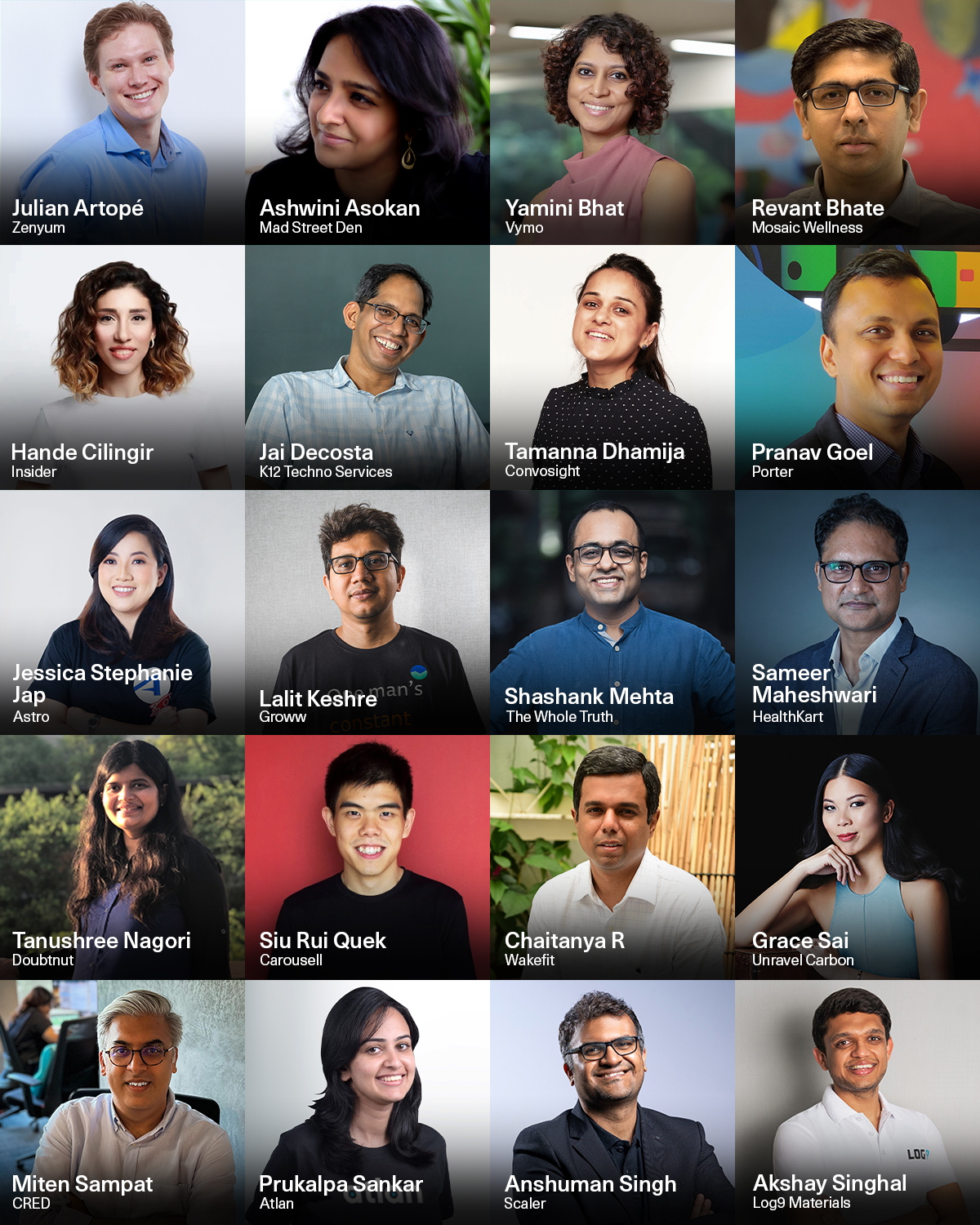 Sequoia's mission is to help daring founders build legendary companies, from idea to IPO and beyond. We are always on the lookout for the outliers and innovators who have that certain 'founder's DNA', and have created a number of programs, including Surge, Pathfinders, Build, Guild and more, to support them at various stages.
We launched the Sequoia Spark Fellowship program, which includes a $100,000 equity free grant and mentorship, in 2021 to encourage more women in India and Southeast Asia to become entrepreneurs. By offering in-depth, hands-on mentorship and a rigorous curriculum to women-led startups, and capital to cover some of the early costs of starting up, we hope to help them ​​navigate the 0-1 stage of company-building as they prepare to raise their first round of capital.
Spark 01, which kicked off in January 2022, was a cohort of 15 companies and 20 female founders from India, Singapore, Indonesia and Dubai building across EdTech, FinTech, SaaS and web3. As of December 2022, 10 of 15 startups in the cohort have raised their seed and Series A rounds from venture capital firms and angels across the region, and one has been acquired by Wipro, totalling USD 51 million of capital post Spark, and demonstrating that they are building disruptive, scalable tech businesses.
Applications for the second cohort closed in October 2022 and an overwhelming number of women applied. Our team spent hundreds of hours poring over applications and meeting female founders across the region, before making the tough decision on which startups to bring into the cohort. The volume and quality of the applications we've received for both Spark 01 and 02 continue to dispel the myth that there's a shortage of female founders in the ecosystem. We are already looking forward to the inspiring founders we will get to meet once we open up applications for Spark 03 in the coming months. #staytuned
We're at a pivotal juncture in our region's startup ecosystem. More and more people are recognizing that diversity is good for business, for society and for economies. We look forward to collaborating with other funds and angel investors to support our Spark founders on their journey – and to inspire the next generation of female founders.
It's time to #SparkTheFlame!