Sequoia Spark Fellowship for Female Founders Now Open for Applications
53% of Spark 01 startups have raised seed and Series A capital so far. We're super excited to see the ecosystem come together to change the game for women entrepreneurs.
Team Sequoia India & Southeast Asia (now known as Peak XV)
Published August 25, 2022
Last year we launched the Sequoia Spark fellowship program, which includes an $100,000 equity-free grant and immersive mentorship, to support aspiring women entrepreneurs in India and Southeast Asia.
We received thousands of applications for Spark 01 and met with hundreds of women; we were blown away by their innovative ideas and the scale of their ambition. The first cohort, which kicked off in December 2021 (and will continue to meet until the end of this year!) includes 15 early startups powered by 20 female founders from India, Indonesia, Singapore, and Dubai who are building across FinTech, SaaS, EdTech, D2C and Web3.
Statistics show the percentage of female founders who are funded by venture capital firms remains low. Surveys we've done show women in our region lack access to capital, networks, knowledge and mentorship – something we set out to solve, in some small way, through Sequoia Spark. It's been beyond wonderful to see the incredible level of interest and support from the wider ecosystem – including the many mentors and investors who've come together with the common goal of helping Spark founders succeed.
Spark 01 isn't over yet, but notable members of the VC ecosystem – including Accel, Alpha JWC, Beenext, East Ventures, Nexus Venture Partners, Venturra Capital, Vertex Ventures, and Whiteboard Capital – have already partnered with these ambitious women. 53% of Spark 01 startups have raised seed and Series A rounds, collectively worth US$34 million, since the cohort kicked off in December 2021. We're sure this cohort will continue to gain momentum in the months ahead.
Today, we're excited to announce that applications for Spark 02 are now open. We are ready to meet the next cohort of incredible, missionary female founders who are out to create an impact, and who are solving hard problems across sectors like SaaS, fintech, sustainability, climate tech, consumer tech, Web3, health tech and more.
Like any startup, we continue to iterate as we go, and we've made some changes to the program to serve founders better. Here's a look at what Spark 02 has in store:
Duration
Spark 02 will run for four months. Spark founders are in the very early stages of company-building and markets are evolving faster than ever before; it's imperative to learn and iterate rapidly. Spark 02 will include a more focussed, intense curriculum that delivers the same value as before, but at a pace that better suits the founders' needs and stage.
Mentorship
Our 02 founders will continue to get mentorship from a set of very seasoned founders from Sequoia India and Southeast Asia's portfolio. A huge shout out to this set of founders, who continue to be so generous with their time, experience and expertise.
Spark 01 Mentors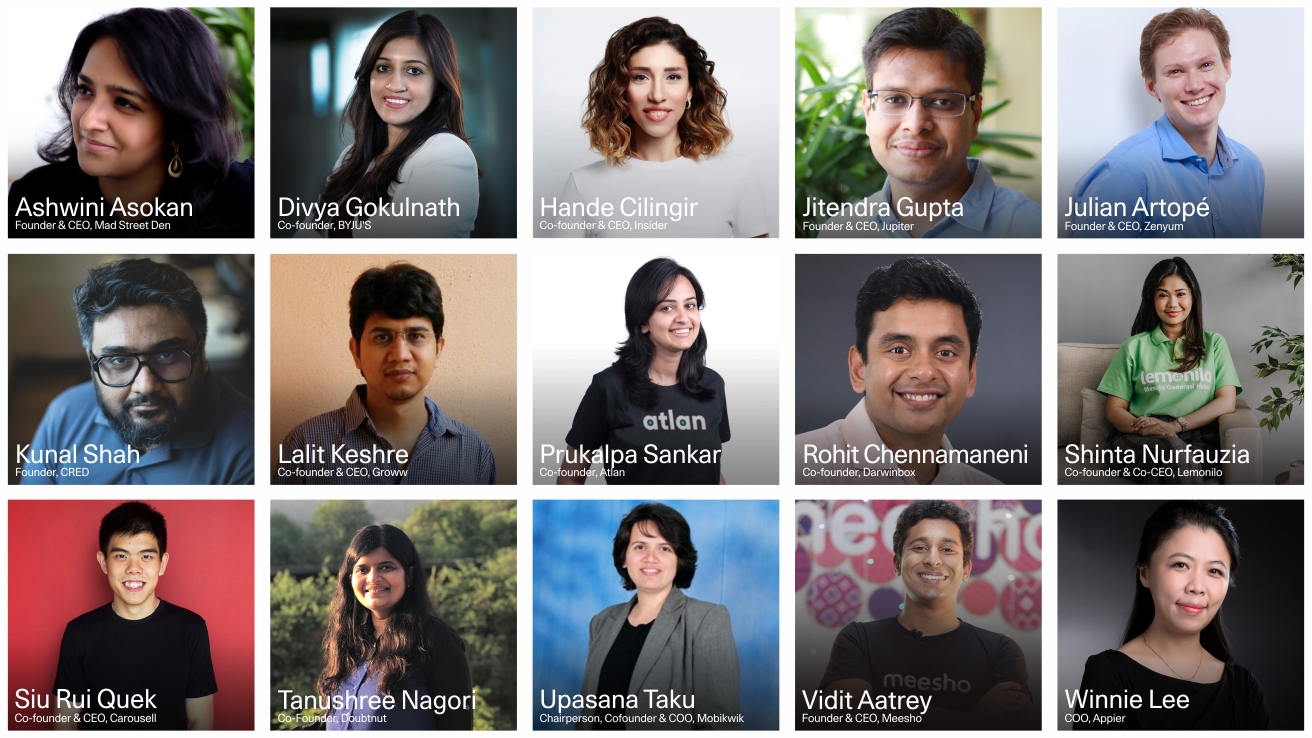 The cohort will also have access to Sequoia India & Southeast Asia specialists, across human capital, marketing, product, legal, and finance. Each founder also will be mapped to an investment advisor, who will work closely with them through the duration of the program.
Content and Community
The program includes a series of curated in-person and online workshops, AMAs, and masterclasses on critical areas of company-building such as brand building, fundraising, and attracting the first set of customers. Spark founders will get the opportunity to meet and connect with the broader startup community, industry leaders and professionals through in-person mixers, meetups, and events.
If you're a female founder building in or for India and Southeast Asia and you'd like to find out more more about Sequoia Spark, click here to learn about the program and the application process. If you'd like to take part, click here to apply! Spark 02 applications will be open from 25th August to 07th November, 2022 and the cohort kicks off in January 2023.
Let's #SparkTheFlame!