Meet the first cohort of the Sequoia Spark Fellowship for female founders
We're at a pivotal juncture in our region's startup ecosystem, when it comes to gender diversity.
Team Sequoia India & Southeast Asia (now known as Peak XV)
Published December 8, 2021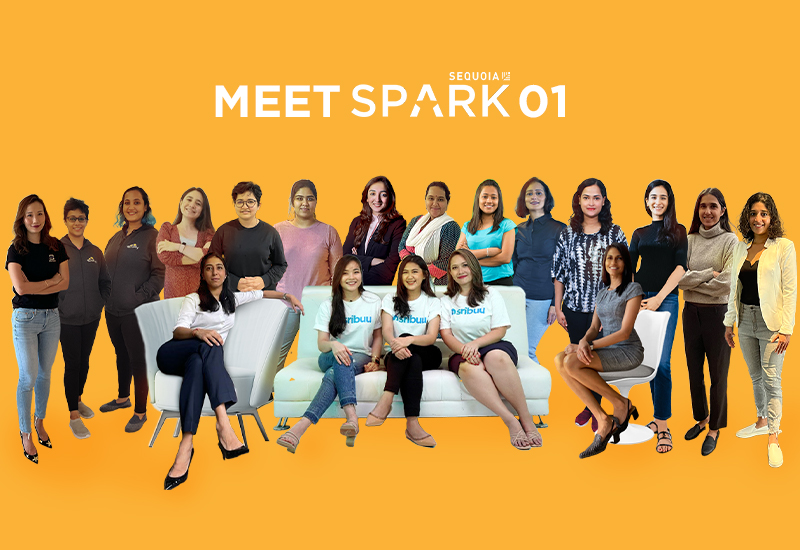 In July, we put out a call for applications for the Sequoia Spark Fellowship, a $100,000 grant-plus-mentorship program we launched this year to help encourage more women in India and Southeast Asia to become entrepreneurs.
The idea was simple: by offering in-depth, hands-on mentorship to 15 women-led startups per year and enough capital to cover some of the early costs of starting up, we hoped to make a small but meaningful step toward rectifying the massive gender imbalance that exists today in the startup world. Just 12% of venture-backed startups in India and 20% in Southeast Asia have at least one female founder, as of 2020, according to data sourced from Tracxn and Crunchbase. The data tells our industry that something needs to change.
Applications for the first Spark Fellowship closed in September, and our team has spent hundreds of hours over the last few months meeting women from across the region. And just – WOW!
The volume and quality of these applications dispel the myth that there's a shortage of female founders out there. An overwhelming number of women applied, and we personally met over 250 of them. We were blown away by the ideas, the intensity and the passion of these applicants. Many have stellar backgrounds with deep industry experience. While some of the ideas were quite raw, the quality of those ideas were very strong. We just loved the vibe in the 'Zoom room' – the applicants were dynamic, open, engaging and full of great questions of their own. Selecting 15 startups was a super hard process that took many months.
Today, we're excited to announce the very first recipients of the Sequoia Spark Fellowship. This is a diverse cohort of 15 companies, powered by 20 female founders, that span a range of sectors, including EdTech, FinTech, SaaS and Crypto. Half of the startups in this cohort are building global companies from Day One. The founders come from India, Pakistan, Singapore, Indonesia and Dubai, and they range in age from their early twenties to their late forties. Some of these founders have spent many years in operating roles and are now starting up; a couple are a few years out of university. Many are in that busy period of their lives where they're balancing career and family. To us, they represent the new India and Southeast Asia. These women are defying gravity, refusing to let anyone define who they are. They are all incredibly focused, hungry, ambitious and resilient.
To meet the women of Spark 01, click here.
The program, which has been carefully designed to help female founders of startups at the prelaunch or pre-PMF (product-market fit) stage lay the foundations of an enduring company, kicks off in December. They'll take part in monthly mentorship sessions, have access to select Surge sessions, and receive hands-on support from Sequoia India portfolio specialists, across hiring, legal, finance, product, technology and marketing.
The founders have each been matched to a senior Sequoia India investment advisor, and to a seasoned startup founder from Sequoia Capital India's portfolio, who will mentor them over the next 12 months. We believe mentorship will be a critical wedge in building a strong product and go-to-market roadmap which, in turn, will help mobilize their seed and Series A rounds. To meet our mentors, click here.
We think we're at a pivotal juncture in our region's startup ecosystem, when it comes to gender diversity. It's been exciting to see other VC firms launch or expand programs for women this year. Everyone in the VC and tech industry recognizes that change must come – and that diversity is good for business, for society and for economies. It's the start of a movement. And we look forward to collaborating with other funds and investors to make these women successful – and to inspire the next generation of female founders.
If you're an investor who'd like to connect with the women in our program, reach out to us. If you're a female founder and would like to apply for the fellowship, tune in to our social channels for updates! Applications for Spark 02 will open in Q2 2022!