India's Got Game: Sequoia India, BCG Report Forecasts a $5 Billion Mobile Gaming Market by 2025
We are eager to partner with the next generation of founders who will take us all to the Metaverse.
Team Sequoia India & Southeast Asia (now known as Peak XV)
Published November 24, 2021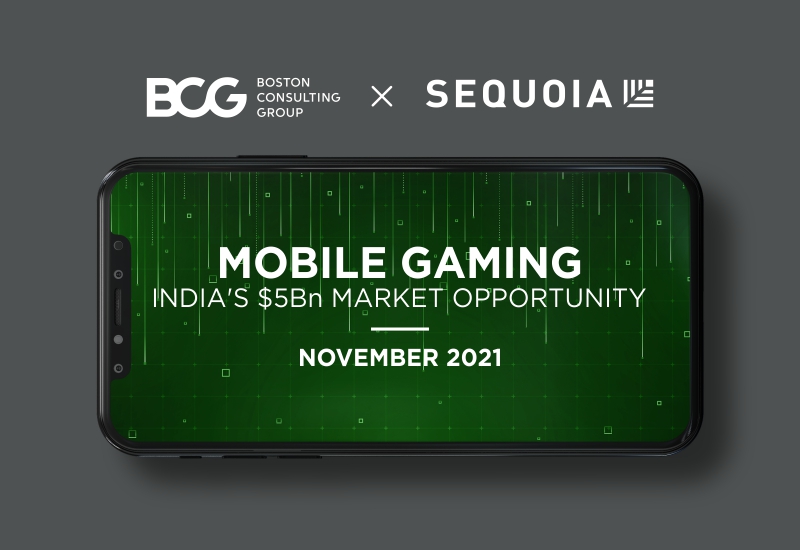 By Prachi Pawar and Pushpak Kedia
When Mobile Premier League took over the Indian cricket team's kit sponsorship deal from Nike last year, Sourav Ganguly, the president of the Board Of Cricket Control In India (BCCI), described the deal as "the dawn of a new era for Indian cricket."
It also sent a strong signal to the country's gamers, creators and startups that India's nascent gaming sector has arrived.
There are now over 300 million gamers in India, and revenue across all gaming devices reached $1.8 billion in 2020, up 500% from 2016. The big driver is mobile gaming, which accounted for $1.5 billion last year. Sequoia India and the Boston Consulting Group, which have co-authored this report on India's gaming sector, expect that figure to reach $5 billion by 2025.
Gaming in India has been catalyzed by smartphone adoption, wider internet access, a better selection of mobile-first games, as well as the rise of gaming streamers and influencers, who are starting to attract large fan bases by playing made-in-India games. What's more, Indian gamers are now willing to pay. While India's game creators initially monetised through in-game advertising, today 80% of the $1.5 billion generated by mobile gaming come from in-app purchases and real-money game (RMG) spends. COVID-19, meanwhile, accelerated gaming adoption dramatically in the last year.
The report, which you can download here, deep dives into the evolution of India's gaming sector, unpacks insights on Indian gaming personas, shares our views on the opportunities – and explores what it takes to win.
We at Sequoia India believe there is a huge depth of opportunity in gaming studios, social gaming, new avatars of RMG and crypto gaming. The India gaming story is just in its first innings and we will see many massive companies emerge over the next five to 10 years.
Achievement unlocked
High-speed internet and the ubiquity of the smartphone have contributed to rapid growth of mobile gaming in India. Nearly 90% of the country's gamers play solely on their smartphones.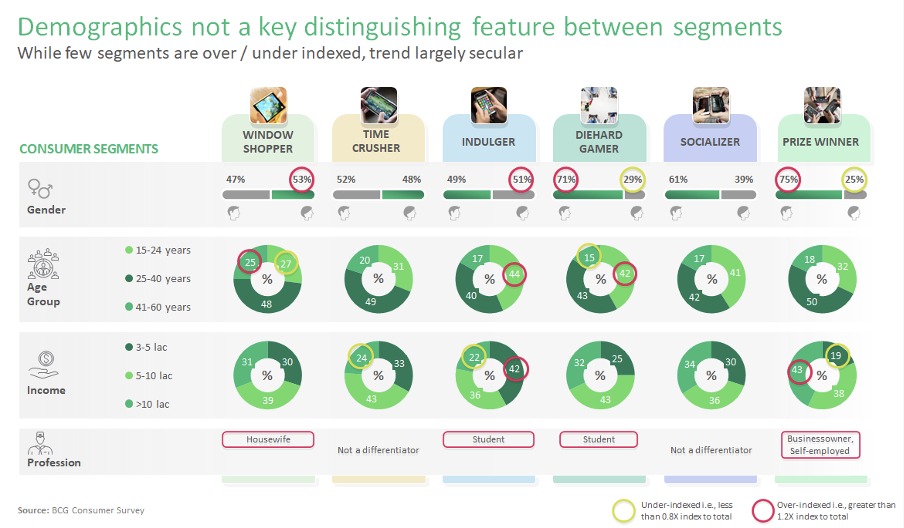 Gaming is an active and interactive form of entertainment – especially multiplayer games. They act as platforms for storytelling, and have also become a way for people to socialise. This social aspect is attracting many new types of gamers, including women, who've not been avid players before. Of the six gaming personas we've identified in our report, women make up about half of three of those personas.
One key reason that PlayerUnknown's Battle Ground (PUBG), a multiplayer battle royale game created by a Korean developer, became wildly popular among players in India was that people could use the chat function in the app to talk to others while gaming in the language of their choice.
There's also a strong correlation between sociability and spend. Close to half the gamers surveyed for this report play games to keep in touch with family and friends, and high engagement gamer archetypes tend to spend more across monetization models. These gamers tend to gravitate towards real money gaming (RMG), which is key.
How the world spins
Before we explain RMG, it is important to understand how gamers evolve to play and win money.
Usually, casual gamers discover something unique or viral. They get drawn in. The layered approach of these games, the intricate stories coupled with the gamers' drive to compete, pushes them deeper. Once these users get comfortable gaming, they start exploring the genres they enjoy; they meet like-minded people or pull their friends into these games. Now, these users are monetised via ads and product placements. Once the user is a serious gamer, they feel emboldened enough to compete for a prize, usually money. And this is when they graduate to become real money gamers.
A part of this involves making payments to enter these competitions. The popularity of United Payments Interface (UPI) has played a large role in removing that entry barrier. With UPI, which has become one of the most popular payment platforms in India, gamers can bet very small amounts – as little as 10 rupees.
MPL, a Sequoia Capital India portfolio company, has built an incredibly popular mobile e-sports and RMG platform by offering tournaments, 1-vs-1 battles and fantasy sport formats. Today, they have 81 million users. So, how does MPL do it? By emphasizing the sporting aspect of gaming, creating communities, offering variety and personalizing the experience to keep users engaged.
MPL uses AI/ML to understand player preferences and skill levels, and recommend games and tasks to improve player skill and their chances of winning. They also use the same technology to match players of similar skills in competitive tournaments, and encourages developers to turn historic games into e-sports with tournament formats. As casual users graduate to gamers, the doors to new games are opened to take them on another wild ride of learning, competing and mastering.
Similarly, Dream11 has built India's largest fantasy sports platform by combining the excitement of competition with the underlying love for sports. D11, an early mover in this space, has built consumer trust and credibility by forming partnerships with the likes of BCCI, the NBA and ICC. D11 offers gamers a huge variety of choice and hosts 20+ matches/day – keeping users engaged in between league matches and seasons. They also use ML to generate and iterate on contests, keeping users hungry to continue to play, pay and compete. Read more around D11's strategic choices, which have led it to become a leader in its space, in the report.
Diversification as a growth lever
Nazara, an Indian gaming pioneer which was founded in 1999 and listed in India in March 2021, started off with web-based games which were distributed via a subscription model through telco networks. The subscription services were offered through 'sachet pricing', with telcos offering daily, weekly and monthly subscriptions for easy to play games. For many years, this formed a major part of the company's revenue, but the most strategic growth lever for Nazara has been diversification – across products, models and geographies.
Today, Nazara's business spans across telco subscriptions, freemium games, E-Sports, RMG and other gamified learning products. While YouTube and social channels have helped drive game discovery in India, the telco subscription model continues to work well for Nazara in other emerging markets, like Africa.
The game development business can be very binary – zero or one. One game can be a hit and the next one a failure. Nazara's approach to diversification creates a wealth of insight, and ultimately helps developers better understand the user, create more compelling products and better utilize existing distribution channels to launch new games.
Taking it to the next level
India is emerging as a talent hub, both for India and for the world. We have a large talent pool, thanks in part to early investments by international studies here, and the number of gaming companies has increased 10x over the last decade. Here are three areas that we believe offer opportunity to the next generation of Indian gaming startups.
Studios
The India PUBG story is often discussed as one of economic success at serious scale – the game generated a triple digit million revenue run rate and had over 50 million MAU's at its peak. What's more important is the impact that PUBG and its peers have had in educating the Indian gamer. Millions of people learned to drive, shoot, jump and run on their mobile handsets – creating a fertile ground for many new games to succeed.
We think the time for Indian gaming studios has finally arrived.
The rise of gaming engines like Unreal and Unity, which provide game infrastructure make it easier than ever to start new games.
Youtube opens up new channels of distribution. Over 100 million Indian viewers now tune in each month to watch gaming content on YouTube, including gamers' livestreams.
Indian consumers have always preferred local content, and we see this continue with cutting-edge new properties, like Sacred Games and Mirzapur, on platforms like Netflix and Hotstar. There's a large opportunity to create games with an Indian element. We see this in China – where 16 of the top 20 gaming properties are locally produced.
Social gaming
The next giant social media company is likely to be a gaming company. One would argue that games like Fortnite are the emerging "playgrounds" of the digital age. And this comes as no surprise – as highlighted in the report, multiplayer games have a strong correlation with time spent.
While every game will need to incorporate multiplayer, synchronous and social elements, we see a tremendous opportunity in building the social layer for gamers across properties. The rise of Discord (valued at over $10 billion in their last financing), as well as the growth in Bunch (live video overlay on mobile games) and Yalla (MENA based gaming platform with audio rooms) are indicative of the massive opportunity in solving for social.
RMG 2.0
We have had the privilege of having the front row seat to witness the meteoric rise of Mobile Premier League (MPL) and with it, the growth of RMG. What was initially viewed to be a niche category has now grown to the dominant form of monetisation for mobile gaming in India.
As the gaming universe continues to expand, it makes sense to approach any new game with an RMG lens.
Conventional gaming genres like MOBA's (multiplayer online battle arenas), racing or sports could have an embedded RMG layer.
There's also an opportunity to offer 'RMG as a service', through SDKs (software development kits) that allow any developer to spin up their own RMG title.
Social RMG platforms that allow P2P groups to host RMG experiences at much lower platform fees is another potential area.
Crypto gaming
The sheer possibilities presented by Web 3.0 – whether through issue of tokens, trading of in game assets through non-fungible tokens (NFTs), new methods of monetisation through models like play-to-earn and emerging competitive arrangements through staking – open up the world of gaming to a fundamental redesign. Moreover, Indian founders have a unique opportunity: crypto is truly borderless, and models have unique access to global talent, investors and users.
Our recent partnership with Faze, which signed a deal with the International Cricket Council to launch collectible trading cards and video NFTs for cricket, is an illustrative example of creating scarce verifiable and portable digital ownership of a universally recognisable IP – with many interesting vectors of engagement and monetisation.
These themes are far from exhaustive and we think there are massive opportunities across the spectrum, especially in emerging pockets like esports and gaming infrastructure software.
What comes next?
The euphoria in Indian gaming is palpable. Nazara Technologies, one of India's early pioneers in gaming, went public in 2021 to blockbuster fanfare, India's fantasy gaming unicorns continue to scale at a breathtaking pace and the entrepreneurial activity at the frontiers of gaming has never been more vibrant. Our partnership with BCG to co-author this report is an effort at taking stock of where things are and we hope is a useful guide for founders, investors and stakeholders in the gaming ecosystem.
We are eager to partner with the next generation of founders who will take us all to the Metaverse.